Product Description
Brazed aluminum inlet and outlet for aluminum plate
CNC (Numerical Control Machine Tool) is the abbreviation of Computerized Numerical Control (Computerized Numerical Control), which is an automated machine tool equipped with a program control system. The control system can logically process the program with control codes or other symbolic instructions, and decode it, so as to make the machine tool move and process the parts. Usually there are CNC machining lathes, CNC machining milling machines, CNC machining boring and milling machines and so on. Aluminum profile CNC machining is a new processing technology. Its advantage is that the processed aluminum profile parts have high precision and good surface, which can meet the requirements of most companies that require high aluminum profile accuracy. The efficiency of the process, reducing the rate of defective products, and saving production costs are also of great help. Trumony has CNC machine and could supply good CNC Aluminum Spare Part, CNC Aluminum sheet, Aluminum brazing tube, aluminum cold drawn tube, aluminum extrusion pipe and so on..
Mechanical property of Brazing aluminum inlet and outlet for aluminum plate:
Alloy code

Temper

Tensile Strength Rm(Mpa)

Yield Strength Rp0.2(Mpa)

Elongation

TR010,TR020,TR030,TR040,TR050,TR110,TR310,

TR116,TR316,TR111,

TR313,TR121,TR131,

TR141,TR150,TR151,TR156 etc

O

95~135*

≥35*

≥15*

H14

140~185

≥125

≥1.5

H24

140~185

≥125

≥3

H16

185~225

≥160

≥1

H18

≥185

-

≥0.5

TR166 etc tube material

H24

185~235

≥150

≥8

TR116,TR316 etc tube material

H14

140~185

≥125

≥3

H24

140~185

≥125

≥8



1) Material : Aluminum alloy
2) Temper:O/H12/H14/H16/H18/H32/H34/H36/H38//H111/H112/H116/H321/T6/T651/T3/T351 etc
3) Thickness: Customized
4) Width: Customized
5) Length: Customized
6) Application: Water inlet and outlet for aluminum water cooling plate of Heat exchanger/ heat sink for vehicle
7) Technology: Brazing
Our advantage:
1. Since 2006, we have rich experience in this industry in China;
2. Good reputation in aluminum material industry;
3. We have our own development department for new material research;
4. Good experience and cooperation with big client in the world;
5. Design ability;
6. High performance cost ratio;
7. Fast delivery time: 10-30 days
8. Good communication skills, and good after sells service, and understandings for customers;
Company Introduction:
Trumony Aluminum Co.LTD build from 2006, have export over 53 countries of worldwide. Our main products are aluminum alloy cladding material, cole material and other aluminum products like aluminum sheet, aluminum plate, aluminum coil, 3003 aluminum water cooling plate for heat sink, aluminum foil, aluminum strip, aluminum pipe, aluminum tube, aluminum heat exchange etc, for automobile heat exchangers area such as radiator, intercooler, condenser, evaporator and industrial heat exchangers, like electricity power radiator, air conditioner etc.There are complete sets of modern production and testing equipment operation workshops for casting, hot rolling, cold rolling, coating finishing and advanced check-out for researching and testing,such as WDW-3010- micro-controlled electronic universal testing machine,CALS-2000 aluminum alloy metallographic image analysis system etc.
Trumony belief: Trust and Harmony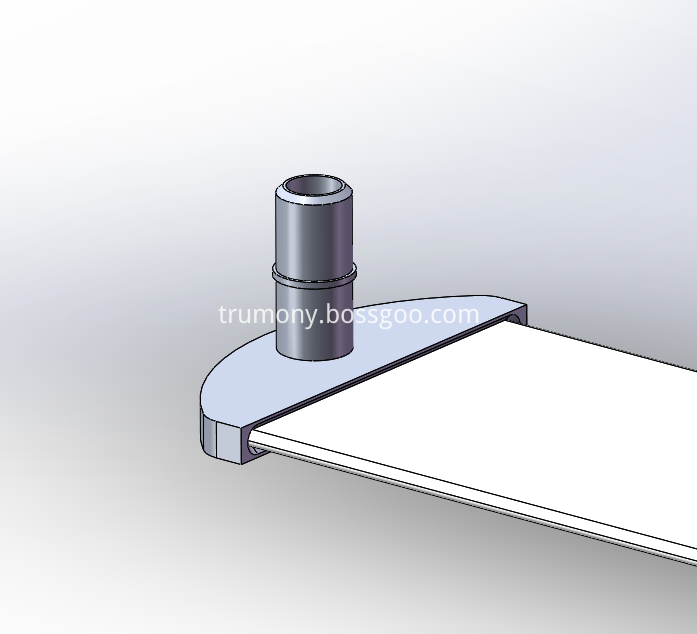 FAQ
1, Q: Are you manufacturer of Brazed aluminum inlet and outlet for aluminum plate?
A: Yes, we are established in 2006. As a manufacturer welcome to visit our factory.
2, Q: Do you accept customized orders?
A: Yes, we do. Your customized orders are always welcomed. Please kindly offer us your technical perfrmances or samples so that we can customize the products according to your preferences. About any further detail, please feel free to contact us.
3. Q: How can I get one quotation faster?
A: Pls offer details about your demands as more as possible,insulation thickness,over diameter,nominal voltage,working temperature,color,quantity,application,etc.
4. Q: If I can not offer above information,what should I do?
A: Try your best to offer more information,we will help you design suitable pipe & tubes.